Who We Are
Synergy
Goodera Information Technologies Pvt. Ltd. was founded in 1996 to stir up a knowledge communication platform, providing a unified experience to educate and engage a learner. Enabling Education Societies to bring together Students, to reach them when apart, ultimately levelingup together for enhanced individual & group performance.
We have a lone view into what matters and what works when driving organizational performance. 30 years of International experience working with top companies at your service to share, analyze, and apply proven practices. we have delivered innovative solutions to transform the potential of Organizations.
Since 2004, We have exclusively worked with Japanese Organizations, especially with WAO Corporation and Excelsoft Technologies. Our Collaboration over the years have evolved into many learning synergies and successfully implemented applications in both Countries.
Now, Indian Organizations, Educational societies have an opportunity to enable the services of these Synergy products by simple and cost-effective means.
History
"We believe that imagination is stronger than knowledge". That myth is more potent than history.
Established in 1996, Goodera Info Tech Pvt. Ltd., is a Synergy Service Deliver Center. We're proud to deliver innovative solutions that potential access to knowledge and experience creates opportunities for development and growth with our clients across the world. Our focus is on Quality, Productivity and Timeliness.
Read more about the defining moments in the history of Goodera Info Tech.
Milestone
New Synergy Products, Open Page & PACIER tests were introduced in collaboration with Excelsoft and MACAT in UK. These services for Indian customers will be launched in 2017
New Synergy Products for Indian Customers
2016
500 Man months of various subject contents were delivered to Remedial learning and implemented.
Remedial E-Learning Application Enhanced with More Modules
2014
Remedial Learning Application developed, delivered and hosted with AWS Cloud. The contents of 500 man months were also developed side by side. Application is successfully used in 38 Japanese universities with more than 100,000 users.
Remedial E-Learning Application for Japanese Universities
2013
Rapid Learning platform was introduced to learn English, Math's & TOIEC Test contents for High school students.
Rapid E-Learning Module for Japanese High school
2012
SARAS VLE was launched in Japanese version and customized, fine-tuned to Japanese needs and deployed successfully to meet the needs of Japanese Universities.
SARAS Application for Japanese Universities
2011
Custom made School ERP application was developed and implemented for KEC Language schools in Japan
ERP Application for Japanese School
2009
Developed K12 contents for Japanese schools for English, Math's, Science and Japanese Language. Contents were successfully deployed with 'SULARA' online coaching.
K12 E-Learning Modules for Japanese Schools
2008
Developed Game based learning 'WAOCHI" for Kinder gardeners to assess the different abilities of the growing up children. Total of 60 games with different themes were successfully delivered
Game Based E-Learning Module for Japanese Pre School
2006
We developed & delivered Electrical & Physics formulas into stimulative E-learning contents for Japanese High School students on behalf of Japanese Education Ministry.
E-Learning Modules for Japanese Education Ministry
2004
Started the development of E-learning contents for Higher Primary students in mathematics. The Basics of the mathematics in the digital media was introduced to a group of Japanese schools across Japan numbering more than 60,000 over an online service. We also started a web Technology team along with the multimedia team to provide wide range of web applications.
E-Learning Modules In Japanese School
2002
Started multimedia services to cater Japanese Educational Institutes. These Projects Involved the development of Java/SQL Postures DB based E-Learning portals, Flash MX based E-Learning contents for Primary school students.
Multimedia Services at Japan
2000
Founded as a Software development and Data Processing unit for Global Alliance information Network, Japan. The work involved data processing for Japanese health care services and Auto Cad based digitalization services for Japanese Architect Offices, Japan Hiways, Kansai Electricity etc.
Global Alliance Information Network
1998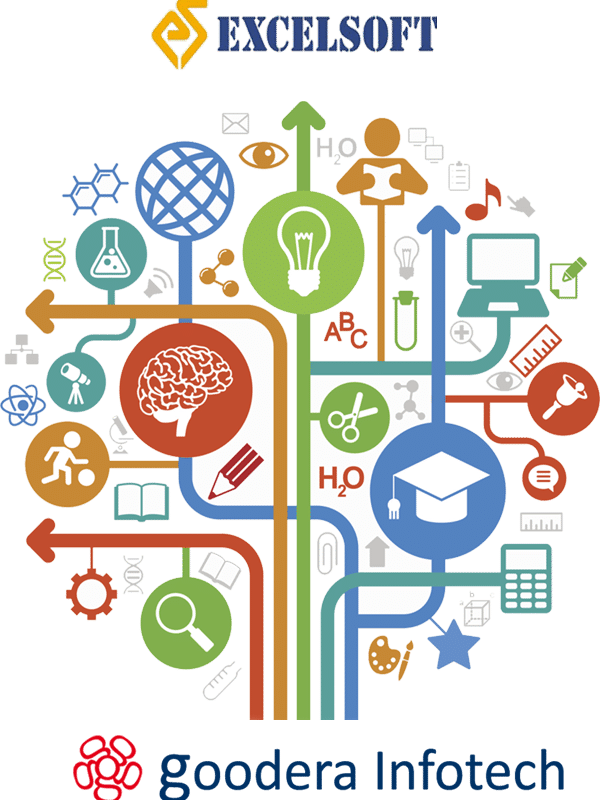 Credo Vision
"We share the knowledge of human kind in the border less world". That foresight is mighty than vision.
The ever-evolving knowledge of individuals, groups, communities and the nations of the past and the present are shared for the betterment of our lives in a perfect digital harmony. The sharing ground is a selfless void, where everything merges seeking its purpose and effortlessly evolving pure knowledge for our future generations.
Freedom of Information Technology & Knowledge!
We support Digital India initiatives, Power to Empower.
– Vasanta Goodera, Founder
Where mind is without fear and the head is held high;
Where knowledge is free;
Where the world has not been broken up into fragments by narrow domestic walls;
Where words come out from the depth if truth;
Where tireless striving stretches its arms towards perfection;
Where the clear stream of reasons has not lost its way into the dreary desert sand of dead habits;
Where the mind is led forward by thee into ever – widening thought and action-
into that Heaven of freedom, my father, let my country awake.
Gitanjali: Rabindranath Tagore